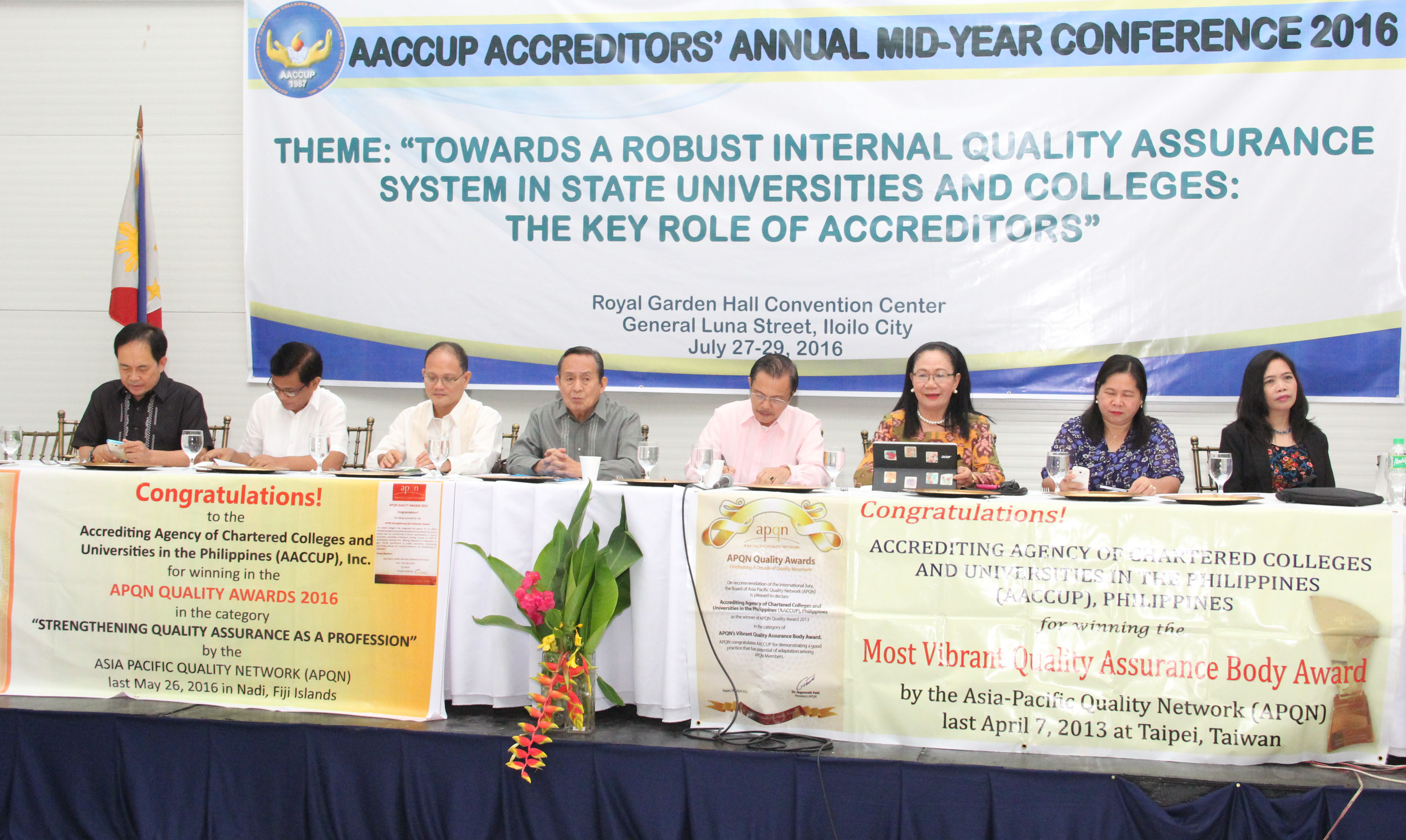 Iloilo Science and Technology University (ISAT U) hosted the Accrediting Agency of Chartered Colleges and Universities in the Philippines (AACCUP) Accreditors' Annual Mid-Year Conference held on July 27-29, 2016 at the Royal Garden Hall Convention Center, Iloilo City.  Internalization and internationalization are the focus of this year's conference.
AACCUP attends to internalization that will strengthen the internal quality assurance of every units by empowering qualified State Universities and Colleges (SUCs) to conduct preliminary surveys.  This allows SUCs to participate in work accreditation.
The proposed institutionalization of cross border education on SUCs is another challenge for AACCUP. Globalization and ASEAN Integration prompted the government to open cross border education or the trans-national education (TNE) to qualified  higher education institutions.  AACCUP is bent on maintaining a high quality standard among SUCs that would offer TNE to foreign partners.
Invited guests speakers were Dr. Angel C. Alcala, former Chairman of Commission on Higher Education (CHED) and  Prof. Dr. Sun Jianrong, International quality assurance expert.
Dr. Angel C. Alcala, who is also Chairman of the National Network of Quality Assurance Agencies, centered his message on strengthening the internal quality assurance of every units. He challenged SUCs to improve their programs, focus on faculty development through specialization, and conduct more research that may be beneficial to the community and the students. He also encouraged SUCs to engage more on Science and Technology. By this, he said, SUCs could improve more the quality of education they could offer to the public.
Dr. Prof. Sun Jianrong is a Ph. D. in Higher Educational Administration holder from Ohio University, USA and an authority in academic quality and standards. He discussed on "The Concept and Practices of Internal Quality Assurance.'  He articulated on the accreditation criteria that higher education institution needs to address and the function of internal quality assurance offices.  Accessibility and availability of information, accountability and feed backing were also emphasized.
He also reminded the participants of the importance of documentation and archiving.   He added that participation in decision-making is another important key in quality assurance. Prof. Sun encouraged accreditors to talk in deliberation even if his stand is against the will of the majority.  He advised SUCs to practice fair sharing of labor of their respective accreditors. But the most important thing for quality assurance according to Prof. Sun is the impact of the program to all stakeholders.
The three-day activity ended with the presentation of workshop output on the Good Practices and Problems in the Management of the On-Site Accreditation Visit, Good and Weak Practices in Preliminary Surveys, Good Practices and Problems in Self-Surveys and the Good Practices and Problems in the Structure of the Internal Quality Assurance Units.
Three hundred sixty-one  accreditors  and 11 members of the Board of Trustees attended the conference.  Dr. Raul F. Muyong,  ISAT U President, is a trustee and AACCUP Training Director for Visayas.
________________________________________________________________
See photos on AACCUP Accreditors' Annual Mid-Year Conference: