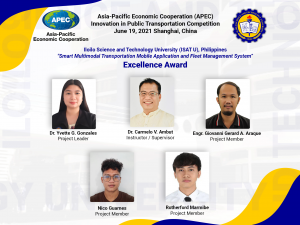 Iloilo Science and Technology University (ISAT U) received a Trophy and INPUT Certificate as a winner of Excellence Award in the University Group of the APEC Innovation in Public Transportation Competition in Shanghai China. The INPUT Competition is a project approved and supported by the APEC Policy Partnership on Science, Technology and Innovation (PPSTI).
The competition was launched in January 15, 2020 and was concluded last July 2021. Members of the team are Dr. Yvette Gonzales (Head, Comp. Dept. / Computing Lab), Dr. Carmelo Ambut (VPRE), Engr. Giovanni Gerard Araque (DIT), Rotherford Marmibe (MIT) and Nico Guarnes (BSCS).
The project was realized due to the rapid urbanization, population density and growth of the Philippines and caused traffic congestion in roads of major cities throughout the country. The project aims to improve the Philippines' current transportation
dilemma by using transport models that integrate older modes with newer travel transportation methodologies towards sustainable and modernized mass transit systems.
ISAT University through its Research and Services Division (RSD) has produced various externally funded researches that have positively impact industries and communities.
Congratulations team ISATU!