When the rest of the world was sleeping, uncertainty came to wreak havoc – a global pandemic, spreading like wildfire. The virus lured the globe and decayed a plethora of lives that left almost everyone feeling helpless and hopeless. Everyone was brought to their knees in a single sweep, except for the stout-hearted individuals. Ivan Omar Lusterio Nobleza, Licensed Professional Teacher (LPT), was among them who persevered in reaching his goal patiently towards becoming a licensed professional teacher.
"I made every second count while studying and getting ready for the licensure examination despite the fact that the pandemic had challenged us in terms of how we were going to continue learning," Ivan said in an interview.
He emphasized the significance of tenacity in the face of adversity. With the ongoing global pandemic, most establishments, especially schools were closed for protocol concerns, but he continued his steps toward his goal, which he accomplished excellently.
Ivan started getting ready for the examination in March 2020. He utilized reviewers at hand and that of the Professional Career Center of Excellence, Co. (PCCE), led by Mrs. Ruby, offering him free review sessions.
Three months before the examination, he temporarily left his office clerk job and continued studying at
the public library daily. He studied independently during weekdays and attended review sessions on weekends.
Last December 16, 2022, the results were publicly published, 56 working days after the licensure exam. The Professional Regulation Commission (PRC) reported that 49,783 students (54.43%) passed the Elementary Level, while 71,080 students (50.94%) made it in the Secondary Level.
"The triumph of passing the board exam is a doorway that I have unlocked, and patience and perseverance are the keys. No matter what course a student is studying, patience and perseverance are constant points of contention. If you lack patience and persistence, you will not be able to accomplish anything," he added.
Ivan Omar L. Nobleza of Iloilo Science and Technology University (ISAT U) passed the October 2022 Licensure Examination for Teachers (Elementary Level) and ranked 10th overall with an examination rating of 92.60%. Overall, ISAT U achieved a national passing rate of 89.47% for elementary and 62.63% for secondary.
Given in different testing centers nationwide, the LET is taken by education graduates twice a year, usually in March and September. Successful test-takers will be eligible to practice their profession and obtain a teaching license.
Undoubtedly, Mr. Nobleza, along with the rest of the LET passers has once again stood as a testimony that the Iloilo Science and Technology University (ISAT U) College of Education (COE) is, indeed, a Center of Development (COD) for Teacher Education. As his name reflects, IVAN, truly is Idealistic, Valiant, Austere, and Notable.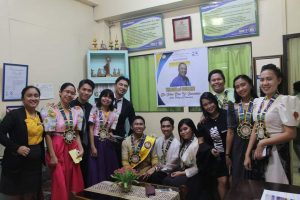 IDEALISTIC AND GADABOUT STUDENT
"As a student, I find delight in attending school. Since I am mindful of my duties as a student, I am able to both enjoy learning and fulfill my responsibilities."
Ivan finished his elementary in Jose Gonzaga Elementary School, Bacolod City. He graduated high school in Negros Occidental High School. In 2004, he enrolled in the Mechanical Engineering program at Technological University of the Philippines Visayas, yet he ceased attending school because of financial challenges. He then enrolled in a private college in Manila to study Computer Science while supporting himself by working other part-time jobs besides janitorial before deciding to pursue Education, which was his dream career.
He tried his luck in Iloilo City, determined to graduate and pursue his ideal profession. In 2016, he enrolled in the Bachelor of Elementary Education (BEEd) at ISAT U. His sister provided financial support for him during his first and second years, but by the third year, when ISAT U started offering free tuition and fees, he was very happy because he was able to sustain himself until he could graduate.
He excelled as a leader whilst in college. In his first year, he served as their section's vice president. After gaining vice presidential experience, he contributed to the advancement of his Council and was subsequently elected vice president of the BEEd Council. Later, in his third year, he was elected as the Educators' Guild secretary, and in his fourth year, he was voted as the Educators' Guild vice governor.
VALIANT SON
"They say that the youngest sibling is favored, but in my case, I carry with me myriad responsibilities."
Of the six siblings, Ivan was the youngest. Even though he lacked a stable job back then, he managed to help his family. He is really understanding and helpful. He is aware of his responsibilities and offers his time to compensate for those things that he cannot provide, financially.
AUSTERE STUDENT ASSISTANT
"I enjoy working, and I believe that working as a student assistant has taught me a lot. Managing school and work developed me towards transcendence."
He was working as a student assistant at the Pedagogy Department of the College during his spare time, making up the four hours that a student assistant is required to render. He was a diligent, responsible, and methodical student assistant. Ivan used his workload as an opportunity to develop skills that he could use in his everyday life rather than as stressors.
NOTABLE FRIEND
"True friends make life more enjoyable. I can give my buddies my time just like I do for my family." Others first perceived him as snooty and acrimonious, despite the fact that they were familiar with his upbeat personality. He is the kind of friend who makes jokes and shares lores. He always makes a sincere effort to support his colleagues. He gives off his time and part of himself to help his friends as he would his family.
IVAN: HENCEFORWARD
"I want to work toward becoming a teacher, in the real sense of the word, who can make a difference for the students, the institution, and society. I don't just want to be a teacher whose teachings are confined to a classroom. I want to actively teach others how to improve what needs to be improved. I should be able to resolve the issues that should be resolved in terms of education since that is what the teacher's role should be – a teacher who can have an impact on the students' life," Ivan said during the interview.
With experience, determination, and discipline, he was able to accomplish his dream and succeed with flying colors in the teachers' licensure exam.
Truly, dreams were put on hold when the world was slapped awake and crippled by the global pandemic. But for Ivan Omar L. Nobleza, a LET topnotcher and a now Licensed Professional Teacher, education brewed with patience and perseverance is an ambrosia toward success. | Ritsdon Hijastro