February 7, 2023 – Dr. Raul F. Muyong, the Iloilo Science and Technology University president and at the same time, the chair of the Regional Association of State Universities and Colleges Region VI (RASUC VI) joined and participated in the Technical Working Group meeting to finalize the plans for Project MINI ME (Mainstreaming and Institutionalizing for the New-Generation the Investments in Monitoring and Evaluation) spearheaded by the Regional Project Monitoring Committee (RPMC VI) and NEDA-VI.
Project MINI ME is a training and mentorship program for the youth on monitoring and evaluation. The project will equip young people with knowledge and skills on monitoring and evaluation of programs and projects of the government. To ensure their participation and be heard, they will be given a seat at
the RPMC-VI.
The delegation was composed of representatives coming from DBM, DILG, OP-PMS, OCD, NYC and Global Shapers Iloilo. They convened at the NEDA Building, Iloilo City to discuss matters regarding the MINI ME Project as it will provide lectures, activities, and, training workshop on planning, implementation, and reporting of monitoring and evaluation of government programs and projects to selected youth leaders from the educational institutions, community groups, and other local organizations.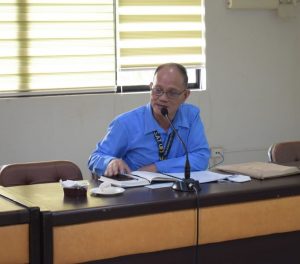 As the chair of RASUC VI, Dr. Muyong emphasized the major role of the academe in honing young people's leadership skills as they are the future leaders in nation-building. Also, he gave emphasis on the Republic Act 8044, The Youth in Nation-Building Act, that calls for youth involvement in character-building and development activities for civic-efficiency, stewardship of natural resources, agricultural and industrial productivity, and an understanding of world economic commitments on tariffs and trade and participation in structures for policy-making and program implementation to reduce the incidence of poverty and accelerate socio-economic development.
Photo credits: NEDA RO VI