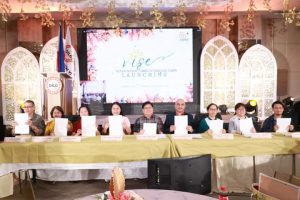 The Municipality of Badiangan, Iloilo was given the chance to present its winning proposal during the national launching of the Recovery Initiatives For Sustained Local Economy (RISE) Program of DILG at Diversion 21 Hotel.
The proposal, aptly called 'One Badiangan' contains a comprehensive framework of analysis of existing conditions, activities, technology and innovations to be used, financial requirements and other step by step procedures to jumpstart the revival of the ginger industry.
The initiative capitalizes on the former glory of the municipality as the 'ginger capital' and its notable variety of ginger grown in the area. The packaging of the proposal was built under the LED process of making the LGU as an enabler of local development, growth, and progress.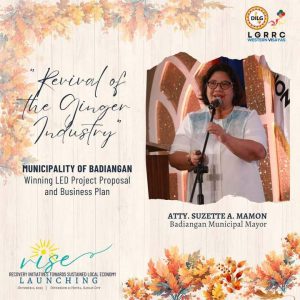 Hon. Mayor Suzette Mamon during her presentation emphasized the need for a "collective identity and ownership of the people of Badiangan" as an important ingredient in this endeavor.
Badiangan, Iloilo was the assigned LGU for the LED Coaches of Iloilo Science and Technology University, namely, Dr. Heinz B. Gumaquil, Dr. Richard C. De Leon, Dr. Steve A. Laster, and Prof. Vincent Rhiyn S. Amalay.
Images sources: https://www.facebook.com/dilgregion6