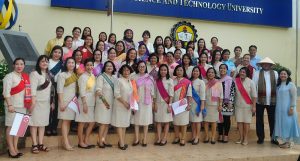 In line with the Philippines' Chairmanship of ASEAN 2017 and celebration of its 50th anniversary on August 8, the administrative personnel wore Asian–inspired uniform and displayed flags of ASEAN member nations in the different offices.
The wearing of Asian-inspired uniform by the ISAT U personnel is in compliance with  Civil Service Commission (CSC) Memorandum Circular (MC)  No. 7, s. 2017 issued on March 23, 2017 which  encourages officials, employees, stakeholders, clients and the general public  to wear  the national attire of any ASEAN Member State during  flag raising ceremony and in the activities of the agency requiring formal attire. The said MC  also encourages the posting of any or all of the ASEAN 2017 streamers/banners in conspicuous places within the agency premises; playing of the theme song, "ASEAN Spirit" during agency events and activities; and conducting of appropriate activity/ies to commemorate the 50th Founding of the anniversary of the ASEAN in August 2017 that will involve agency officials and employees, its stakeholders and clients.
In support of the campaign, the faculty and staff of the different ISAT U campuses are assigned to wear the national attire of an ASEAN member country during the 112th ISAT U Foundation Anniversary on September 4-12 .
See related photos: