THE SKILLS OLYMPIAD AND THE GAWAD TASI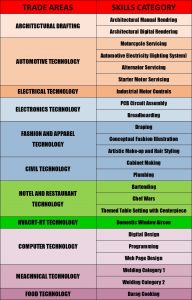 The Skills Olympiad tested the students' ability in putting into application the theories they learned in the classroom. Twenty-four skill categories in 11 trades areas were participated by the students from different ISAT U campuses.
"Winners should have gone further," was the challenged of Dr. Raul F. Muyong. He emphasized that the Skills Olympiad could be a gateway for participation in much higher and bigger skills competition in the country and even abroad. "The University is also preparing for your competencies that could come toe-to-toe with the global standards," he added.
A strong advocate of TVET courses, the university president also pointed out that lesser number of students are taking programs that would land on  3D (dirty, dangerous and difficult) jobs. He said that "many focused on computer programs. No one is taking civil technology or courses which are considered as dirty and we really lack workforces in this field of specialization."
Dr. Muyong challenged the professors as well to include in their plans the upgrading of facilities, "Our laboratories should be smart laboratories in the future, I hope that this will be considered by the department heads for next year. "
"Let's get out of ISAT U. Let's showcase our talents outside of this University.  Our target is we have to join the national skills competition. We have to join the ASEAN skills competition or if we can make it, the global skills competition," was the call of Dr. Raul F. Muyong.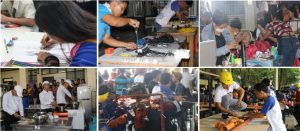 In the Skills Olympiad, the students apply the theories they learned in the classroom.
GAWAD TASI
The 1st GAWAD TASI was held to recognize and appreciate the partnership and the role of the local media in promoting ISAT U's activities, programs and services.
"TASI" is the inverted acronym of ISAT. The name started when University was named Iloilo School of Arts and Trades or ISAT in 1939. Since then, even after its conversion to Western Visayas College of Science and Technology and into a university, the institution is popularly known as ISAT. TASI is also the moniker of the statue in front of the administration building.
The different local media outfit recognized were ABS-CBN TV Patrol Panay, GMA-One Western Visayas, Aksyon Radyo, Bombo Radyo, RGMA Super Radyo, RMN, The Daily Guardian, Iloilo Metropolitan Times and Panay News. The government run Radyo Pilipinas, Philippine News Agency and Philippine Information Agency were also given recognition.