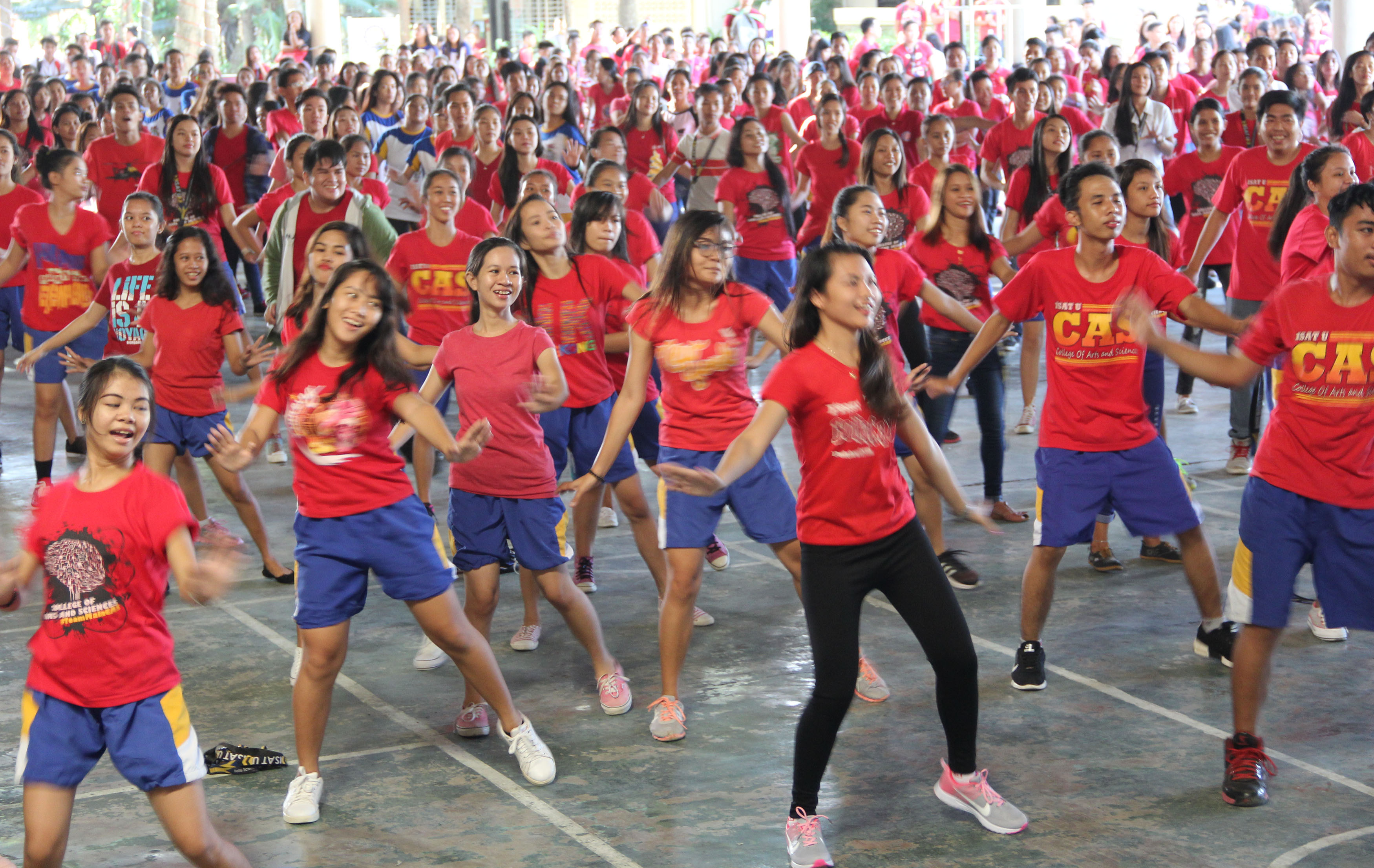 In support to the annual 18-day campaign to End Violence Against Women and their Children (EVAWC), the ISAT U Gender and Development (GAD) program organized a series of activities that simultaneously kicked off with a caravan in all campuses of the ISAT U system on November 25, 2016.
The 4th GAD Hataw to Fight AIDS was part of the campaign and supports the World Aids Day celebration on December 1. Clad in red shirt, students and ISAT U personnel sweated out in the early morning Sumba at the Multi-purpose Educational Center.
A film showing featuring BOSES, a Tagalog indie film, was held to help students visualize the realities of child abuses in a Filipino community.
The GAD Public Forum on VAW was also facilitated to give significance to the campaign's theme "VAW Free Community Starts with Me." Dr. Maria Francia M. Laxamana, Department of Health Assistant Secretary on Technical Services, was the resource speaker and emphasized in her message the role of the victims of sexual abuses to help end violence. Dr. Laxamana encouraged the audience not to fear but to come out if they were victims of abuses. The students were also reminded of the effects of social media on their perception towards sexuality. The influence of pornographic sites were found to be one of the causes of sexual violence and pre-marital sex among the youth. RA 9262 or the Anti-violence Against Women and Their Children Act of 2004 and the Reproductive Health Bill were also discussed in the forum.
The GAD quiz bee was organized to create learning experience among the students. Eddie Bert Hechanova, Raichelle Solivio and Derwin Lapating of Barotac Nuevo Campus took home the championship certificate and the P 7, 000 cash prize. The team from Miagao Campus received P4, 000 and certificate as second place winners while the College of Arts and Sciences, Main Campus received certificates and pocketed P 3,000 as  third place winners.
The 18- day campaign ended with the 1st GAD Song Writing Contest. Prof. Emelie A. de la Cruz, ISAT U GAD focal person, said that the students wrote songs inspired by love, respect, end to violence and the importance of gender equality. Diskriminasyon composed by Vincent Carl Elipe, BS Information Technology (Main Campus), bested all other entries and won P 7, 000 cash prize. Respeto at Paggalang sa Mga Kababaihan by Kevin Cloyd Subosa and Dominic Paul Balinsoy, BS Electrical Engineering (Main Campus), won as first runner-up and a cash prize of P 6, 000. Meant to be Loved by Andy Josh Sondia, College of Arts and Sciences (Main Campus),  landed third place and won  P5, 000.
Other entries that received consolation prizes were The Value of Her Beauty (Jan Christian Palma), Set Me Free (Angel Faith Poblacion), Kontra Abuso (Stephen Palabrica), Respeto (BIT- Miagao) and Pagbabago (Glenn P. Sumbanon-BSIT Dumangas).