TESTIMONIAL DINNER
A Testimonial Dinner on the night of the opening day was held to recognize the retirees, loyalty service awardees, best researches of the faculty and special awardees for exemplary deeds. Hon. Julienne Baronda, Iloilo City Lone District Representative was  invited  as guest speaker.
Due to prior commitments and the busy schedule in the Plenary Hall of the House of Representatives, Hon. Baronda was not able to attend the Testimonial Dinner. Her message, however, was read by Miss Lourdes Advincula Gapasin, one of Baronda's consultants.
Cong. Baronda lauded the teachers' commitment in bringing the welfare of the students, the well-being both inside and outside of the classroom, and the meaningful relationship in every aspects of the students' lives.
She praised the teachers' effort to survive despite of so many challenges and urged them to be catalyst of change in this great nation. Cong. Baronda also assured ISAT U academic community of legislation that will support the university's program and activities. "Ang office ni Congresswoman Baronda, bukas gid sa inyo tanan (The office of Congresswoman Baronda is always open for you."), says the message of the solon.
Six professors were honored as they closed the book of their teaching profession. The retirees were Engr. Jonathan C. Antiquiera, Profs. Editha S. Arguelles, Samie M. Billanes, Rolando  F. Jacuman, Rosario G. Mosquera, and Engr. Dorothy S. Sorolla.  Engr. Antiquiera was also recognized for his service as Faculty Regent of ISAT U.
This year there were 46 Loyalty Service Awardees. The awardees for best researches were also the firsts to be given recognition in the Testimonial Dinner.
The University also awarded a Huwarang Kawani Gantimpala to Ryan John A. Amarador, agency guard, for his honesty and integrity. Mr. Amarador returned the duffle bag containing millions of pesos that was left accidentally by a bank personnel in the campus premises.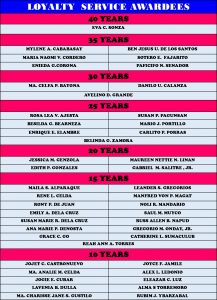 Faculty Regent Engr. Jonathan C. Antiquiera and Student Regent Miss Christia Mae S. de la Cruz, were also acknowledged for their dedication and service as members of the Board of Regents, ISAT U's governing body.
The outgoing department heads of the different colleges given recognition were: Engr. Ben Jesus U. de los Santos, Prof. Samuel G. Arsulo, Prof. George L. Lopez II, Prof. Renato T. Torreres, and Dr. Georgia D. Demavibas as outgoing principal of the laboratory school.
The talent-laden faculty and staff also displayed their poise and grace in the inter-department Retro Dance Competition. The College of Education was declared Champion. The College of Arts and Sciences took the second place while the Administrative Staff landed third. The College of Industrial Technology and the College of Engineering and Architecture were the fourth and fifth placers, respectively.
The best dressed employees of the night were also given recognition.
See related photos: