The Iloilo Science and Technology University (ISATU) affirmed its commitment as a member of the Western Visayas Local Government Resource Consortium (WVLGRC) after signing a MOA with the DILG on the occasion of the World Water Day 2021.
The MOA pertains to the reconstitution of the consortium which is envisioned as the primary capacity development provider of local government units (LGU). Since its inception in 2013, it has been successful in advancing quality services and processes in the LGU though the conduct of relevant trainings and seminars among others.
"The MOA signing focuses more on the issue of global water crisis and in raising the awareness of people. Despite world modernization, there is still a lack of access to safe water in some parts of the world. Water is very important in our everyday lives not just in our homes but even in our different workplaces." Dr. De Leon shared.
The reconstitution is also a timely response to recent developments particularly on the Supreme Court ruling in the case of Mandanas –Garcia. In effect, the ruling modified the previous computation of the share of LGU's and will be allowing an increase in their internal revenue allotment (IRA).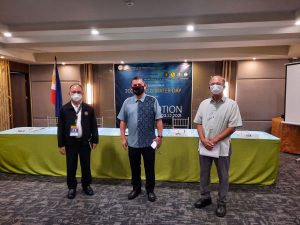 The ceremony was attended by DILG R6 Regional Director Juna Jovian E. Ingeniero, ISAT U President, Dr. Raul F. Muyong, Dr. Clement C. Camposano, Chancellor, UP Visayas, Dr. Teodoro S. Robles, President, CPU and Rev. Fr. Frederick C. Comendador, President, University of San Agustin.
DILG R6 ARD Maria Calpiza J. Sardua, UPVFI Exec. Dir. Joy C. Lizada, CPU RCECC Dir. Dr. Lenny Rose P. Mucho, ISAT U RDS Dir. Dr. Richard C. De Leon, and USA SACEO Dir. Maria Cristy E. Daguay were also present during the event.