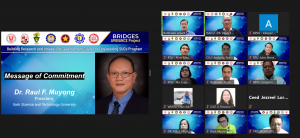 "Today, ISAT U affirms its commitment to work with BatSU and partner SUCs in the implementation of the MOA for the BRIDGES. We will never waver in our commitment to the MOA and in the development of a strong partnership among the SUCs" said Dr. Muyong in his message during the BRIDGES virtual MOA signing held on July 13, 2021.
The collaborative research undertaking entitled "BRIDGES" or Building Research and Innovation Development Goals for Engineering SUCs is made possible through the efforts and leadership of Batangas State University President and PASUC President, Dr. Tirso A. Ronquillo.
The Virtual MOA Signing Ceremony demonstrates the commitment to collaborate and cooperate in the field of research, education and training, in deciding goals together with other SUCs, in sharing responsibilities, and working together to achieve more than could be achieved by an individual SUC on their own.
ISAT University and the rest of the SUCs responded to the call of collaboration for BRIDGES and are keen to cooperate most especially in the time of technological progress and innovation. The institutional research collaboration aims to bring together SUC researchers with complementary perspectives, interests, skills and knowledge bases to produce new technological knowledge and innovation with physical health, economic and social benefits.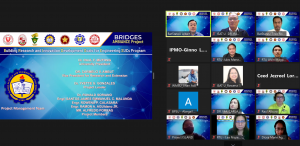 Dr. Gregorio J. Rodis, President, Bataan Peninsula State University, Dr. Anthony M. Penaso, President, Caraga State University, Dr. Manuel M. Muhi, President, Polytechnic University of the Philippines, Dr. Ma. Eugenia M. Yangco, President, Rizal Technological University, Dr. Carla A. Ochotorena, President, Western Mindanao State University and Engr. Albertson D. Amante, BRIDGES Focal Person and BatSU VP for Research and Extension Services were among those present during the said virtual gathering.
"I am confident that our partnership will make a positive contribution to the SUCs' development through education and training specifically on our students, faculty, our internationalization programs, and local and global rankings" added Dr. Muyong.