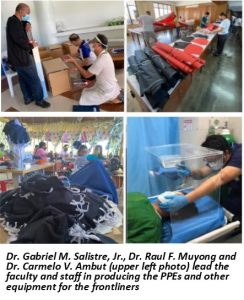 As part of its social responsibility, ISAT U responded  to the call to support the battle against COVID 19 pandemic. The University key officials, faculty and staff showed the spirit of volunteerism and service amidst the threat  of  COVID 19. The University produced aerosol boxes for intubation and personal protective equipment (PPEs).
As of press time, thousands of face mask,  improvised face shields and protective suits were already distributed to frontliners through the City and Provincial Government of Iloilo,  the Philippine National Police and other agencies.
Aerosol boxes were also delivered to different hospitals. Don Jose S. Monfort Medical Center Extension Hospital (Barotac Nuevo) and Western Visayas Medical Center got 2 each, Iloilo Mission Hospital OB Delivery Room (1), and Palawan Provincial Hospital (2).
Extension Services Division Dir. Adrienne D. Veloso said that the production of PPEs was in partnership with community partners. She recognized Angel Cris Calaboa Dressmakers Association, Calaboa Dressmakers Association (Leganes, Iloilo) and Oton Dressmakers Association, Inc. in helping in the production of the face masks.
The production of face shields and aerosol boxes, on the other hand, is being undertaken at the FabLab at the University Research Hub.
ISAT U Pres. Dr. Raul F. Muyong said that the distribution and production of protective suits, aerosol boxes, face masks and face shields is ongoing. The University targets to produce 14,000 pieces of face masks, 500 face shields and 150 units of aerosol boxes to augment the needs of front liners handling the COVID 19 pandemic.