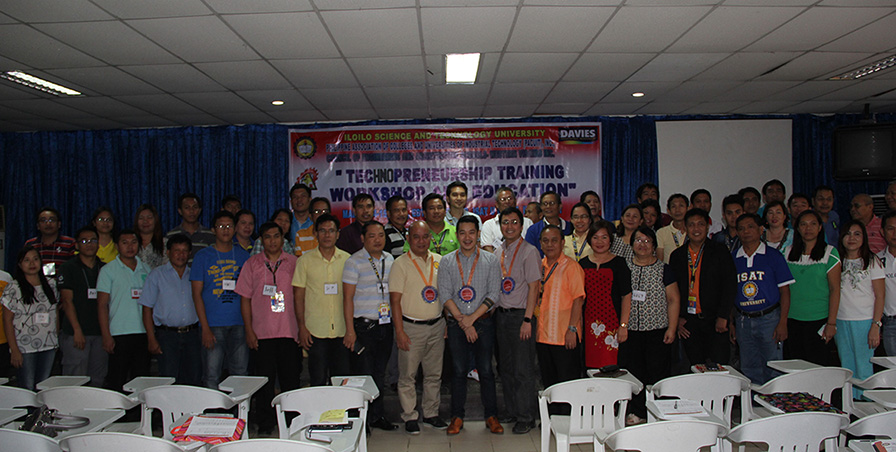 Iloilo Science and Technology University, Philippine Association of Colleges and Universities of Industrial Technology (PACUIT, Inc.)-ISAT U Chapter and the Council of Engineering and Architecture Schools in Western Visayas (CEAS-WV), Inc. conducted a Technopreneurship Training Workshop and Education on March 14-15, 2017 at the EdTech Center.
The workshop was conducted to advance entrepreneurial mindset and build entrepreneurial ecosystem among academic institutions in preparation for the offering of the Technopreneurship 101 course work across engineering curricula by year 2018, to train faculty and students to understand the concepts of entrepreneurship as applied in the engineering curriculum, train faculty how to incorporate entrepreneurship in their subject matter and train faculty to develop start-up venture.
Engineering faculty in different schools in  Western Visayas, faculty of ISAT U College of Industrial Technology, College of Arts and Sciences and College of Education, and selected Electronics Engineering and Electrical Engineering students were oriented on the topics on opportunity recognition and ideation; design thinking; team formation and team building; customer-centered product design; building entrepreneurial mindset in school; bookkeeping techniques; and elevator pitch.
Prof. Matthew George O. Escobido, Head, Innovation and Analytics Laboratories, Asian Institute of Management, Makati City, discussed on the "Design Thinking Customer-Centered Product Design." The topic on "Opportunity Recognition and Ideation Building Entrepreneurial Mindset in School" was explained by Dr. Godelyn G. Hisole, CEA faculty and PACUIT ISAT U Chapter head.
Ms. Maila S. Alparaque, HRMO I, gave the insights on Bookkeeping Techniques while the Team Formation and Team Building was elucidated by Prof. Emily de la Cruz, GAD Chair.
Engr. Bernie Cangrejo, Head, Packaging Engineering Department, Central Philippine University,  enhanced the participants' communication skills through the Elevator Pitch and Mr. Emil Benjamin B. Tapnio, Program Director – IDEA, Philippine S & T Development Foundation – Manila, Inc. (PhilDev S & T), talked on the Role of PhilDev S & T in forging Technopreneurship 101.
Engr. Danny C. Molina, President, Council of Engineering and Architecture Schools, WV, Inc. encouraged students to be an entrepreneur and emphasized the value entrepreneurship as the driving force of the country.
The students from ISAT U CEA showcased their innovative projects that promote not only engineering but also lead to future entrepreneurial endeavor. Featured were the mechanical charger, water bed-water indicator, environmental lamp, drum seeder, heating chair, light with SMS-generated switched, multi-purpose box with lights, fan, clock, environmental floral lamps.