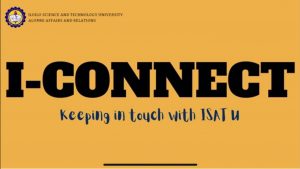 The second week of September 2021 marks the 116th founding anniversary celebration of ISAT U.
I-Connect is one of the events that transpired in the founding anniversary celebration of the University and was streamed through the official Public Information Office page. It featured alumni from various Colleges including the Laboratory School, Graduate School and the External Campuses of ISAT U in Barotac Nuevo, Dumangas, Leon, and Miagao. Each college and campus had its respective premiere date.
The I-Connect initiative provides linkage from the past and present Tradeans which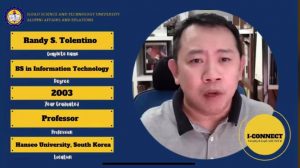 advocates a sense of belongingness and community, especially for the first-year college students, giving them a glimpse of their present and future. The video messages from the alumni included insights into the education in ISAT U and how the University contributed to the person they are now. Also, some shared tips on how to survive undergraduate studies and how to be successful in their respective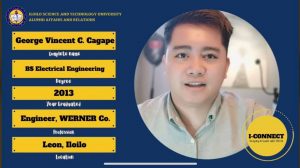 fields, others reminisced what was, and all had expressed gratitude to their beloved alma mater. The I-Connect initiative unequivocally serves as a homage to the Iloilo Science and Technology University.
The first I-Connect video premiered on September 7, 2021 highlighted the alumni of the College of Arts and Sciences and the College of Engineering and Architecture particularly Kristian Rey Trinidad of BSIT class of 2005, Randy S. Tolentino of BSIT class of 2003, Rayjand T. Gellamucho of BSCS class of 2009, JC June N. Garanchon of BSEE class of 2008, Rea Rose S. Pedrajas BSA class of 2009, Rocky S. Alegrado of BSEE class of 2014, Rona R. Malquerido of BSEE class of 2012, George Vincent C. Cagape of BSEE class of2013, and Alecar S. Prado of BSE class of 2008.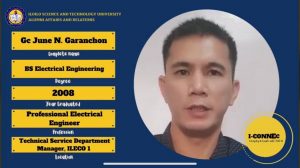 You can still catch more premiers of the I-Connect on September 13-14, 2021 on the ISAT U Public Information Office Page.
– Dessa Quinto, LPT