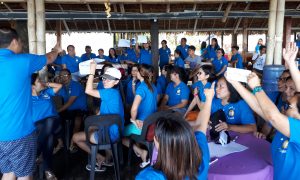 To increase productivity and to promote team cooperation and bonding among the administrative staff, the ISAT U Employees Association held the summer capability building activities at Vista Veranda Resort, Madrangca, San Jose Antique on May 25-26, 2017.
The lecturers and activity facilitators were VPAF Dr. Nehema K. Misola who lectured on Administrative Concerns and CEA Dean Dr. Russ Allen B. Napud who discussed on capability building.
The Bonfire Activity and Socials and the Hataw Galaw sa Tag-araw were among the activities that brought closeness among the employees. An open forum on administrative concerns and the oath-taking of the organization's appointed standing committee members were also conducted.
See related photos: