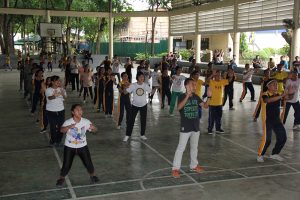 The ISAT U Employees Association (ISAT U EA) sweated out in the first session of the weekly Hataw Galaw Fitness program on July 12, 2017 at the Multi-purpose Covered Gym.
Mrs. Hazel S. Bautista, ISAT U EA President, said that the Hataw Galaw was reintroduced to help the employees stay fit and healthy in carrying out their daily tasks. She added that this is in consonance to the Civil Service Commission Memorandum Circular No. 8, s. of 2011 reiterating the physical fitness program, "The Great Filipino Workout", among government instrumentalities including State Universities and Colleges.
The Great Filipino Workout was made an integral part of the National Physical Fitness and Sports Development Program for government personnel by the Commission on April 20, 1995 through Memorandum Circular No. 6, s. of 1995.
The Hataw Galaw Fitness program, which includes a 45-minute non-stop sumba dancing and weight monitoring among the participants, is conducted every Wednesday at 4:00 P.M.. It is participated by university key officials, permanent and contractual employees.
See related photos