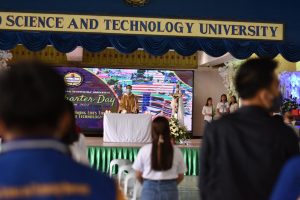 May 18, 2022 – Delegates and faculty from the different colleges and campuses celebrated the founding anniversary of Iloilo Science and Technology University themed, "ISATU: Transforming Lives Through Science and Technology."
The 7th Charter Day founding anniversary of ISATU is a 1-day celebration packed with exciting activities.
The morning activities started with a mass officiated by Rev. Fr. Joaper G. Geraneo, the vice-chancellor of the Archdiocese of Jaro and was attended by the faculty, staff and students.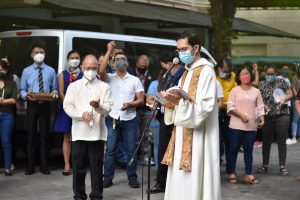 After the mass, the blessing of the administration building followed. The University's key officials headed by, President Raul F. Muyong, the Vice Presidents of the ISAT U system, Student Regent, John Joseph Tabladillo and the representatives from the colleges and external campuses of the institution were present during the event.
The President's Cup: A sociocultural activity was held in the afternoon. Selected students from the colleges and campuses of ISAT U showcased their talents and skills in the various competitions such as the Binalaybay Contest, Dayaw and Hiphop Dance Competition.
For seven years now, the University has been faithfully and dedicatedly living by its virtues,  "Labor is Honor."
Written by: Senator Kevin Rey Deanon