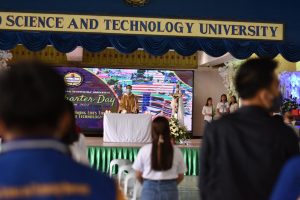 May 18, 2022 – Delegates and faculty from the different colleges and campuses collectively celebrated the founding anniversary of Western Visayas College of Science and Technology as it gained its university status since 2015 and it is now called Iloilo Science and Technology University (ISAT U) as it is popularly known as ISAT based on its previous name in 1939 – 1983, Iloilo School of Arts and Trade (ISAT).
The 7th Charter day founding anniversary of ISATU is a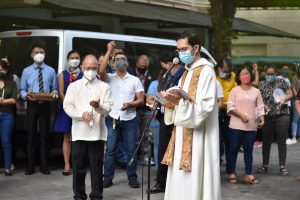 one-day celebration where it is also an event that is momentous because since the pandemic started in 2019, it had become the first hybrid program conducted at the ISATU Lapaz Campus. The morning activities started with a mass officiated by Rev. Fr. Joaper G. Geraneo and was attended by the faculty, staff and students physically or virtually present. After the mass, the blessing of the newly finished administration office followed. The university's key officials; President Raul F. Muyong, the Vice Presidents of the ISATU system, the Student Regent, John Joseph Tabladillo and the representatives from the colleges and external campuses of the institution were present during the event.
The President's Cup: A sociocultural activity followed in the afternoon and select students from the colleges and campuses of ISATU displayed their talents and skills in the various competitions such as the Binalaybay contest, Dayaw and the Hiphop Dance Competition. The activity was full of excitement and longing of the students to again have physical programs such as the activity that was pushed through; colors, cheers and chances to again go back to the previous normal filled the atmosphere of the ISATU gymnasium.
"Labor is Honor", the school's motto truly was felt during the afternoon activities, the performances of the students were truly remarkable.  Labor is not only a term isolated for the commitment in industry but labor is also a term that defines – in all aspects that a Tradean is challenged to do which he or she displays passion and dedication is also labor that consequently gives pride and honor not only for his or her represented college and campus but it is the victory of ISATU as a whole, where we are proud, strong and strengthened as Tradeans as what we should be.
Written by: Senator Kevin Rey Deanon