Day 1 and 2
Sept. 2, 2018
Motorcade, Project Runway and the Opening Program
The university key officials, faculty, staff and students joined in the motorcade along the major streets of the city to signal the start of the celebration. It ended up at SM City Iloilo where the "Project Runway" was held.
Project Runway is a yearly showdown of creations of the Bachelor of Science in Fashion Design and Merchandising (BSFDM) students. This year's theme based on the school's celebration is futuristic. Ten groups of students presented 20 collections in the runway.
__________________
The Opening Ceremony
September 3
The university focused on the global trend of the fourth industrial revolution in its 113th Foundation Week Celebration on September 2-10, 2018. This year's theme is "ISAT U @113: Advancing Science and Technology Towards Industry 4.0."
In the opening ceremony, Director Rowen R. Gelonga, Department of Science and Technology Regional Office 6, was the invited guest speaker to grace the celebration.   The broad knowledge of Dir. Gelonga on the different scientific advances such as 3D printing, robotics, creation of new materials through technology, the use of internet in manufacturing and the breakthrough in genetics, precision medicines and bio-printing gave a clear picture on the concept and characteristics of Industry 4.0. He elaborated on the stages of industrial revolution from steam engine to digitized manufacturing.
He challenged ISAT U to make changes to embrace this development, "it is also very imperative to review our degree programs, and perhaps close some while opening new degree programs" he said.
Dir. Gelonga also acknowledged the school's direction to utilize research in changing the society. "I am particularly glad that ISAT U has deepened its focus on research. We have now the Research Hub which houses the different laboratories such as robotics, 3D printing and natural sciences among others." He also lauded the recently approved textile research project of the school.
"We must start now. Industry 4.0 has come, "was the final challenge of Dir. Gelonga before the academic community of ISAT U.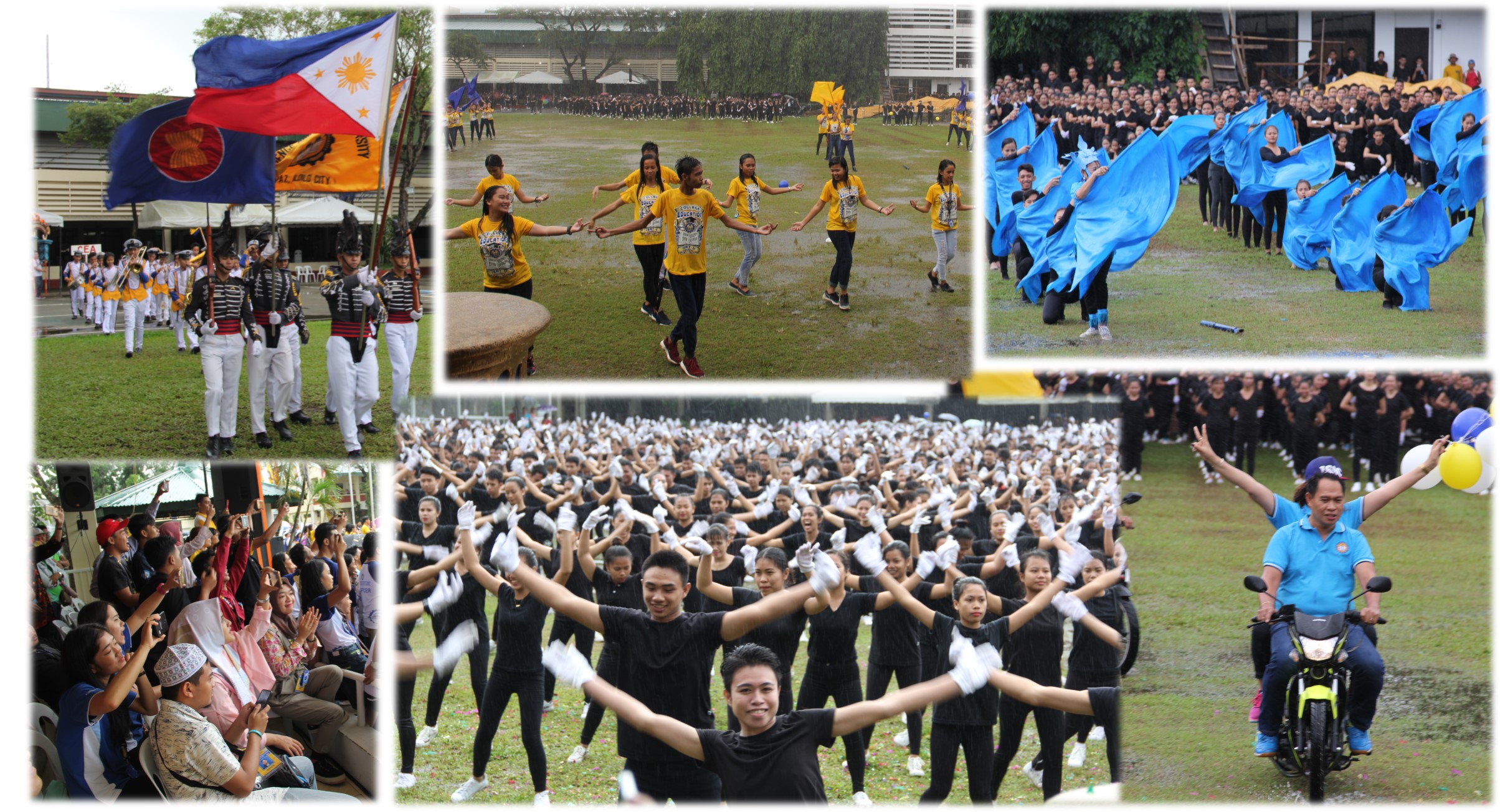 The heavy downpour did not hamper the flow of the opening program. Dripping wet, students under the Physical Education classes performed a spectacular mob dance that awed the crowd.
The day's activity continued with the Robotics Showdown, Academics Quiz Contest and opening of exhibits of the different colleges and the external campuses.