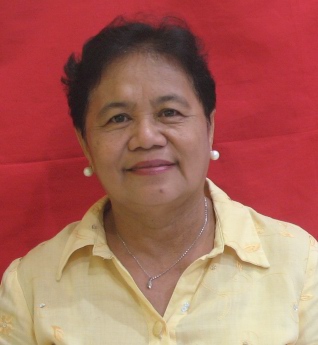 Dr. Ma. Asusina Asuncion E. Echaveria
Dean
Ms. Adelaida T. Tabud
Admin Aide VI

There shall be an Office of the Student Affairs and Services who is responsible for the development and implementation of various student-centered programs, services and activities in support of academic pursuits intended to facilitate holistic and well-rounded student development for active involvement as future responsible citizens and leaders.
Goal: Driven by the desire to promote the well being of the students, the office fosters a nurturing environment where academic excellence and values development is the primary concern.
Objectives of the Office of the Student Affairs and Services:
Ensure objectivity and proper balance between the rights of ISAT U as an institution of higher learning and the student's rights;
Provide opportunities to successively apply life skills in the students' various learning experiences in the University;
Provide opportunity for the delivery of quality and efficient services by the Office of Student Affairs and Services to the students of ISAT U;
Properly monitor and supervise all registered and recognized student clubs, organizations and interest groups.
Provide opportunities for students 'involvement in the co-curricular and extra-curricular activities, fostering optimum social growth, accommodating individual differences and responding to their psycho-social needs;
Ensure that the Student Affairs and Services comply with the minimum requirements set by CMO No. 9, s.2013 in consonance with the holistic approach of ISAT U in fulfilling its vision of as a leading science and   technology university in Southeast Asia by 2030.
SERVICES:
Ancillary Service. The University shall have an office to cater to other services such as :
Identification Card. (ID) all students are required to display their Identification Cards while inside the school premises. No student is allowed to enter the University premises without their ID card properly validated for the current semester. Rules and regulations pertaining to the proper use of University ID has been set forth and violation has to be treated in accordance with the Rules of Conduct and Discipline.
School Uniform. Students are required to be in their prescribed uniforms during Monday, Tuesday, Thursday and Friday.  Wednesday is a "WASH DAY"; and students should wear appropriate clothes in accordance with Office Order No. 163, s.2018.  Students shall wear their shop, P.E. and Laboratory Clothes during their shop, PE and laboratory classes only.
Student group Insurance. The University provides an Accident Insurance to all students enrolled during the Academic Year.  Any student who meets an accident during the affectivity of the one-year insurance plan will be paid the corresponding benefits in accordance with the schedule set forth in the insurance policy contract between the University and the Insurance Company.
Student Mails.  Students can address their mails to the Iloilo Science and Technology University especially if the mails are official in nature. Mails can be claimed at the Office of the Student Affairs and Services during office hours upon presentation of their duly validated ID cards.
Scholarships and Financial Assistance. There shall be student scholarship and financial assistance program in various forms and accessible modalities available to students with appropriate screening and monitoring procedures, and guidelines understood by applicants and recipients.  These are classified into:
Merit Scholarship. A competitive type of scholarship given to poor but deserving students.  The recipient shall maintain a grade point average of 2.0 with no grade lower than 2.5 in all subjects enrolled during the term.
Financial Assistance. This is given to students in good standing.
Student Loan is a financial assistance given to third year and fourth year and graduating students to support their projects, or thesis completion.  The loan is payable two (2) to five (5) years after graduation.
Other Forms of Financial Assistance. These are loans granted to students in times of emergency. This is available to undergraduate and post baccalaureate students who are enrolled in diploma courses
List of Scholarship and  Financial Assistance
No.
Scholarship Program
Type
Benefactor
1
Buenavista Municipal Scholarship Program (BMSP)
Government
Municipality of Buenavista
2
CHED Full Merit Scholarship Program
Government
Commission on Higher Ed.
3
CHED Half Merit Scholarship Program
Government
CHED
4
CHED Tulong Dunong Grant-in-Aid Regular
Government
CHED
5
Cosmic Technologist, Inc.Scholarship Program
Private
MSN Foundation, Inc.
6
Department of Science & Technology-Science Education Institute (DOST-SEI)Scholarship Program
Government
DOST
7
DND-CHED-PASUC
Government
CHED
8
Dr. Raul F. Muyong Scholarship Program
Private
Dr. Raul F. Muyong
9.
Dr. Victoria G. Baldovia Scholarship Program
Private
Dr. Victoria G. Baldovia
10
Expanded Student's Grant –in-Aid Program for Poverty Alleviation (ESGP-PA)
Government
DBM
11
Free tuition 2017 (RA 10931)
Government
CHED/ UniFAST
12
GSIS Scholarship Program
Government
GSIS
13
Gado and Jessie Jalandoni Scholarship
Private
Assisi Foundation
14
Guam Alumni Scholarship Program
Private
ISAT U Alumni Association – Guam Chapter
15
ISAT U College Department PTA Scholarship Program
Private
ISAT U College Community Parents Teachers Asso.
16
ISAT U Multi- Purpose Cooperative
Private
ISAT U Multi-Purpose Cooperative
17
Iskolar ng Bayan Program
Government
CHED
18
Iskolar ng Iloilo Program
Government
Iloilo Provincial Government
19
Jardeleza-Jits Foundation, Inc.
Private
Engr. Nemesio P. Jardeleza
20
Jordan Municipal Scholarship
Government
LGU, Jordan Guimaras
21
Jose Jon Tiamsuy Foundation, Inc.
Private
Jose Jun Tiamsuy
22
Life Bank
Private
Life Bank Foundation, Inc.
23
Provincial Educational Assistance for Indigenous People/Indigenous People/Indigenous Cultural Communities
 

Government

 

Iloilo Provincial Government

24
Scholarship Program for Persons with Disabilities
Government
Iloilo Provincial Government
25
SECDEP
Private
SECDEP
26
SGP PAMANA Partylist
Government
CHED
27
SPC Island Power Corporation
Private
SPC Island Power Corporation
28
St. Elizabeth Community Development Scholarship Program
Private
Mrs. Luzviminda B. Coronado
29
SUC Tulong Dunong (Abang Lingkod)
Government
Abang-Lingkod Party List-CHED
30
UCPB-CIIF Foundation , Inc.(Coco Foundation ) Scholarship Program
Private
. UCPB-CIIF Foundation, Inc
31
Toyota Motor Philippines Foundation, Inc. Scholarship Program
Private
Toyota Motor Philippines Foundation, Inc.
32
Varsity
Government
ISAT U
Student Housing and Residential Services.
The University shall provide assistance to all students to have access to dormitories and housing facilities, including accredited private boarding houses, that are safe, clean, affordable and conducive to learning.
CCPTA Inc. Dormitory – Female Dormitory
Alumni Dormitory – Male Dormitory