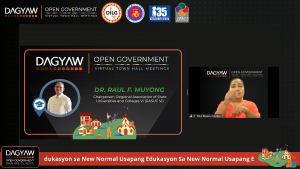 Dr. Raul F. Muyong, ISAT U president and chair of the Regional Association of State Universities and Colleges VI (RASUC VI), bared COVID 19 initiatives and other ongoing projects in education during the episode 3, 'Usapang Edukasyon sa New Normal' of Dagyaw 2021.
As one of the invited speakers, Dr. Muyong presented the various programs of the University that enabled it to thrive despite the many challenges of the new normal. In his report titled, 'Thriving in the New Normal: The ISAT U Experience', he mentioned that internet connectivity is one of the most prevalent issues in the shift to flexible leaning modality.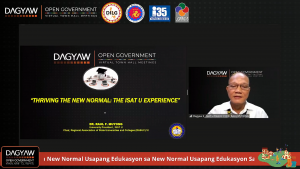 A survey was conducted by the University to properly address the issue. "The University crafted its leaning continuity plan (LCP) which is centered on the use flexible learning, technology and other support mechanisms for our stakeholders," according to Muyong.
The University now has its own functional Virtual Learning Environment (VLE) which is easily accessible to students and faculty members. Provisions for connectivity allowance for teachers, electronic tablets, and pocket wi-fi for students were also made during the initial stages of the LCP implementation.
Dagyaw 2021 is a popular platform sponsored by
the DILG, DBM, and PCOO that brings together local government units, NGAs and CSOs to discuss pressing issues in governance and other social concerns.
During the episode 1, 'Usapang Mandanas at Budget', Dr. Heinz B. Gumaquil, Director of the Public Information and Communications Office of the University was also invited to speak regarding the 'Roadmap of the Academe in Assisting the LGUs in the Preparation and Implementation of the Full Devolution Transition Plans (DTP)'.
He was again invited in episode 2, 'Usapang Kalusugan at Ekonomiya' of Dagyaw 2021 where he served as a moderator.