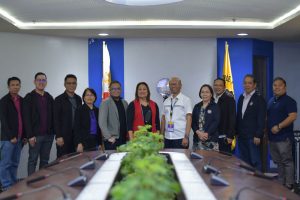 The Iloilo Science and Technology University (ISAT U) and the Department of Interior and Local Government VI signed a Memorandum of Agreement (MOA) for the development of the Barangay Newly Elected Officials Framework to be rolled out this October. The agreement taps the expertise of the University in developing modules which will be used to enhance the capability of newly – elected barangay officials not only in the region but also of the entire country. These modules will cover various topics such as the basics of R.A. 7160, General Welfare, R.A. 6713, Barangay Budget Process, and Barangay Development among others.
These topics are central to a well – functioning local government unit.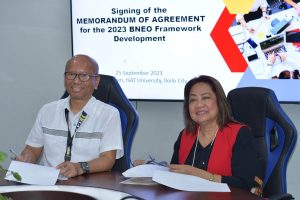 DILG VI Assistant Regional Director Maria Calpiza J. Sardua expressed her gratitude to the University for taking on the challenge of helping the  agency fulfill its mandate. For his part, ISAT U President Dr. Gabriel M. Salistre Jr. reiterated the commitment of the University in giving assistance and technical expertise to the LGUs to ensure that barangay officials are equippped with the basics of a transparent, accountable and effective local governance.
Also present during the Signing Ceremony are DILG Division Chief Christian Nagaynay, LGOO VI Medel Espinosa, LGOO V Dr. Marlon Ladia, LGOO II Mark Joenel Castillo and the Chief of the Finance and Administrative Division Marie Elanor T. Antiqueiera. VP for Academic Affairs, Dr. Corazon C. Corbal, VP for Administration and Finance Dr. Russ Allen Napud, Research Director Dr. Richard C. De Leon and PICO Director Dr. Heinz B. Gumaquil also attended the activity.