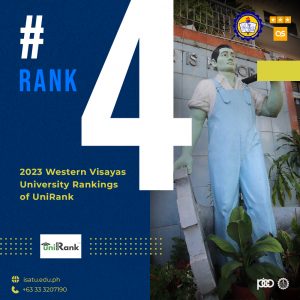 The Iloilo Science and Technology University (ISAT U) broke through the Western Visayas University Rankings grabbing the 4th spot overall in the 2023 edition of UniRank's assessment.
UniRank is a global ranking system of universities and colleges based on web presence, popularity in terms of estimated traffic, domain trust, authority, and quality link to popularity.
According to its website, the selection of recognized private and public higher education institutions (HEI) is based on the following criteria: chartered, licensed, or accredited by the appropriate Philippine higher education-related organization, offering at least four-year undergraduate degrees or postgraduate degrees, and delivering courses predominantly in a traditional, face-to-face, non-distance education format.
Compared to other ranking systems, UniRank does not require universities and colleges to submit their data to influence their rankings. Instead, the system relies on valid, unbiased, and non-influenceable web metrics from independent web intelligence sources.
The University is 77th in the national ranking and 4th in the region. This is a big departure from its
performance from the previous years where it was not able to enter the winning circle in Western Visayas.
Other Universities from Western Visayas which are also in the national rankings include UP Visayas (34th), CPU (35th), WVSU (74th), University of St. La Salle (85th), John B. Lacson (89th), Aklan State University (97th), University of Negros Occidental – Recoletos (112th), University of San Agustin (126th), University of Iloilo (139th), and Capiz State University (167th) among others.
The strong showing of the University can be attributed to the clear direction of the administration and the collaborative efforts of the different units and other stakeholders in providing good content, improved branding, and consistency in maintaining the website and other official social media accounts of the University.