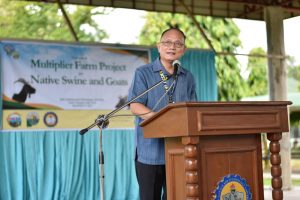 November 4, 2021 – the Department of Agriculture Regional Office VI has officially turned over the "Multiplier Farm for Native Swine and Goats" to Iloilo Science and Technology University Leon Campus.
Director Remelyn R. Recoter led the turning over of the One Million and Three Hundred Fifty Thousand Pesos (Php. 1, 350,000.00) project funded under the DA National Livestock Program.
In her message, Director Recoter mentioned that the project includes the provision of stocks of native swine and goats with facilities. She also emphasized that the project will serve as complementary to the
agricultural marketing facilities in Leon.
Meanwhile; Dr. Raul F. Muyong, University President indicated that through this project the University will be able to realize its vision for the ISAT U Leon Campus to be the center of smart agriculture and agri-eco tourism. Moreover, this project addressed other sustainable development goals such as poverty, hunger, quality education, and partnerships.
Hon. Ma. Lina C. Holipas, MunicipalMayor and Hon. Michael B. Gorriceta, 2nd District Representative  extended their support to the University by committing to continuously provide programs for the development of the municipality not only in terms of infrastructures and farm to market roads but also providing livelihood to the people of Leon.
Fir his response, Dr. Julito C. Aligaen,  assured that the whole ISAT U Leon Campus will work hand in hand in sustaining the project for the benefit of Leon and other nearby municipalities.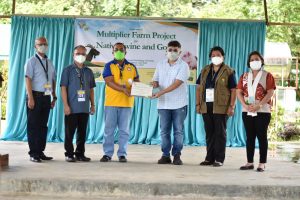 With this, ISAT University remains true to its mission of undertaking sustainable production and extension services. The Multiplier Farm for Native Swine and Goats will not only serve as venue for hands-on training during instruction, research and production activities of students and external clients but it will also benefit the community through its various extension programs like dispersal of stocks to qualified farmer beneficiaries.
The Multiplier Farm for Native Swine and Goats is only one of the many projects and collaborations the University hopes to undertake.
The Turning Over Ceremony culminated with the cutting of ribbon at the project site by ISAT U officials along with the invited guests.
-Keith Guantero