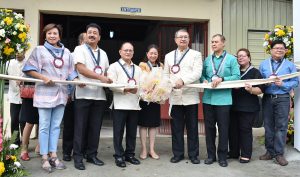 DOST Sec. Fortunato T. De La Pena and CHEd Chair J. Prospero E. De Vera III lead the ribbon-cutting ceremony to inaugurate the RYPIC. In picture are Great Women Phil. President Ms. Jeannie E. Javelosa, ; CHEd Chair De Vera;  ISAT U Pres. Dr. Raul F. Muyong; PTRI Dir. Celia Elumba; Sec. De La Pena; Miagao Mayor Macario Napulan; DOST  Usec Rowena Cristina L. Guevarra,  and Dir. Rowen R. Gelonga, DOST RO6. 
The Iloilo Science and Technology University (ISAT U) and the Department of Science and Technology-Philippine Textile Research Institute (DOST-PTRI) inaugurated the country's first Regional Yarn Production and Innovation Center (RYPIC) for the  revival of the native weaving industry with cultural, economic, environmental and tourism components.  The 42-million facility now produces yarns from blends of natural fibers such as abaca and pineapple, combined with cotton to be used in weaving fabrics.
DOST Sec. Fortunato T. De La Pena  and CHEd Chair J. Prospero E. De Vera III graced the RYPIC's  inauguration at ISAT U Miagao Campus on November 6, 2019.
The RYPIC was conceptualized in 2016 through the collaboration of ISAT U with DOST-PTRI. Its objective is to provide technical support to micro-small-medium scale enterprises (MSME) involved in the manufacture of garments, textile, and allied products through the development and production of natural textile-fiber based yarn.
As one of the prime movers of the project, ISAT U sees the bright future of the industry by bringing back weaving courses in its programs. "Now, we are happy that we have this facility at ISAT U and this is an opportunity for us to offer new programs, the Bachelor of Science in Textile Technology and Design, "stressed ISAT U President Dr. Raul F. Muyong.
He added that faculty members were already sent to India to observe practices in weaving industry that could further enhance RYPIC's  operation, promote its sustainability and in preparation for future curricular offerings.
Dir. Celia B. Elumba of the PTRI explained the environmental and cultural impact of the project, "Every time we wash our clothes with synthetic materials, there are micro-fibers left in the waters. One study has claimed that a liter of water contains seven to eight pieces of micron of polyester." She asserted that blended yarn produce in the RYPIC does not contain polyester and has positive impact to the environment.
She also emphasized the value of fabrics from natural fibers and woven the traditional way. In her previous visits to ISAT U, she shared that it is more marketable abroad and with higher price compared to those made of synthetic materials.
Miagao Mayor Macario Napulan also expressed his gratitude as the project complements his efforts of reviving a dying industry. Hablon once flourished in Miagao but due to ready to wear garments and the migrations of weavers to the booming sugar industry, hablon weaving dwindled.
Great Women Philippines through its President, Ms. Jeannie E. Javelosa, expressed full support to the project.  "We are excited how far we can help push this initiative," she said. Great Woman Philippines is one of the partners and takes charge of the marketing of the products.
Dir. Rowen R. Gelonga, DOST RO6 described RYPIC "as a major contribution not only in revitalizing the economy of Iloilo and its textile industry but more so in making Iloilo as an innovation landmark." Recently, Innovation Iloilo was launched with DOST at the helm and RYPIC fits the intention of the movement to position Iloilo as a premier innovation hub of the country in 2030.
The facility is also seen to boost tourism in Miagao. Talking before the press during the Regional Science and Technology Week (RSTW) at the Iloilo Convention Center on October 21, 2019, Sec. De La Pena shared his view on how technology could generate tourism, " pagpunta ko halimbawa sa lugar kung saan pinapalaki ang mga isda, sa akin ay parang attraction na iyon, eh, . .ang pagkuha ng fiber ng pinya, yung makita mo na ginagawa yung mga local products, is in itself an attraction " he said. Referring to the RYPIC,  Dir. Gelonga and Dr. Muyong shared the same outlook with the Secretary.
A TOUGHER CHALLENGE FOR ISAT U
Sec. De La Pena divulged that he was part in the first round table discussion on the idea of a micro scale yarn spinning facility that gave birth to the RYPIC. He mentioned of the Philippine Tropical Fiber (PTF) Act which requires government employees to wear uniforms made of PTF. However, according to him there was no supply of fabrics for the purpose. There were little or no supply because no one was spinning the yarns necessary to weave the PTF and no one was extracting the textile fibers at a commercial scale.
The Secretary believes that the facility could "respond naturally to market demand."
The same challenge was presented by DOST Undersecretary Rowena Cristina L. Guevarra.  According to Dr. Muyong, in a meeting in Thailand USEC Guevarra challenged ISAT U to produce a fiber to be used for the uniform of all government agencies in the Philippines. " It is a big challenge for ISAT U of course, but we take the challenge," assured Dr. Muyong.
With this, ISAT U needs to innovate and develop new products and come up with a large scale fabric production.  "We have deliverables in the second phase of the project; we have to develop a volume of yarns based on different blends and combinations," explained Dr. Carmelo V. Ambut, ISAT U VP for Research and Extension.
To address the need of supply shortage, a prototype of a power loom for large scale production is also considered by ISAT U. The issue, however is the effect of mass production to the prestige and value of handwoven fabrics. Dr. Ambut nonetheless refuted the perceived implication. "There is no effect; the latter is special and for special occasions; its value and distinction remain," he explained.
The university is also tasked to discover new blends of fibers. Dr. Ambut highlighted the different topography, climatic situation and different species to consider in choosing a plant fiber. "It may be the same material but where it grows significantly spell out an output; and we are targeting to utilize any local plants provided that its fiber length is not shorter than 2 inches," he explained.
Research and development play a role in proving and producing new materials. "We need to utilize research to develop and use new combination of fibers native to Region VI and distinct from what the RYPIC is producing right now," he added. Currently, the yarns are produced from common materials.
A different name for the new fabric is also considered to add value and to establish its uniqueness. "Our product is not hablon," said Dr. Ambut, "we need to have a branding to our fabric since it is unique and made of local and new fibers."
The birth of RYPIC also opens more opportunities on research and development for ISAT U. Dr. Ambut toyed the idea of a Balik Scientist Program for textile. He said it would encourage researchers to develop technology, circuitry, ceramics and other areas that could make a difference in textile industry.