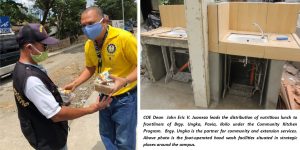 The College of Education (COE) and the College of Industrial Technology (CIT) launched health-centered projects to help control the spread of covid19.

In response to Republic Act 11469 or the Bayanihan Act placing the entire country under the state of emergency and enjoining all government agencies to contribute in addressing the pandemic, the COE launched the Community Kitchen for the front liners at Brgy. Ungka, Pavia, Iloilo during the quarantine period.

The program provided nutritious lunch and extended moral support for the barangay tanods, health workers and volunteers assigned at critical areas of the barangay. Brgy. Ungka is ISAT U's partner for community and extension services.

The CIT, on the other hand, developed  a foot-operated hand wash facilities in preparation for the opening of classes.

The innovations are designed to minimize hand contact while maximizing the hygiene practice of the students.

The University is currently constructing 10 new hand wash facilities inside the campus while the existing lavatories  will be modified to suit the less contact standards of the newly built facilities.